At Cepac we're incredibly proud of our people. This is one in a series of staff focus articles where we shine a light on the many faces who make up our team.
We speak to John, Operations Manager at Cepac Rawcliffe, about performance, managing people and Rawcliffe's recent new accreditation.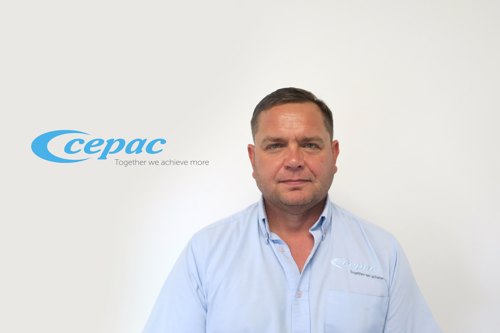 Can you describe your role at Cepac?
I am Operations Manager at Rawcliffe with responsibility for coordinating a wide range of activities within a dynamic environment. For example, machine performance, maintenance, engineering, conversion, despatch – looking after quality and ensuring customer service. My job certainly keeps me on my toes!
Our primary focus is upon quality - that we give our customer what they want, and get it to them on time and in full. When I talk about performance, I'm not always talking about machinery run rates, I'm talking about the quality that we achieve, or reducing set times to open capacity on the machines. Our principal service measurement is OTIF or 'On Time In Full.'
It takes a long time to build or change a culture. It'll never change in a week or a month. It'll take a good year to eighteen months for a group of people to really start thinking in a different way. I like to think I get on with everyone here generally and I enjoy the challenge. They are a good team here and they're very hard working. The business itself is known for innovation and the challenge is keeping up, or preferably staying out in front! I'd say that's my forte is managing people, but you'd have to ask the staff really.
What challenges do you face in your role?
The biggest challenge for me isn't the job itself, that's not intrinsically difficult, instead it's managing people. People are all so different and, on this site and in general, my biggest challenge is ensuring that people take ownership of new developments. Managing people on a day-to-day basis is a challenge because you can't predict what's going to come up. It's different every day.
We have recently devoted a great deal of time to planning ahead to ensure that Rawcliffe stays in front and is 'futureproof.' As a result, we've changed a lot of things about how we operate and what we do. And that's a credit to everyone involved here. There have been many new procedures and processes to adopt, and we've also had to change the way we think a bit. That's been really refreshing as it can be all too easy to fall into a set way of doing things. In the last year or two we've really shaken things up and that's for the better. We've had to think more critically and take more ownership and responsibility over our decision making. I hope we continue to do so—always getting better.


Do you have a standout achievement or event that's a particular highlight of Cepac?
There have been several milestone events, and Rawcliffe are gearing up for an exciting future.
A big one was gaining the BRCGS (British Retail Consortium Global Standard) accreditation here at Rawcliffe, for which we scored AA. This is a highly prestigious accreditation as the standard itself has been raised, with the emphasis very much upon food safety. This places Rawcliffe within a select number of corrugated suppliers who are capable of meeting the highest standards. Our team has done exceptionally well to achieve it and we've learned a lot along the way.
What are you excited about in Cepac's future?
I'm looking forward to seeing more investment in this site and seeing what we can do with that. There has been recent investment in the actual buildings which was good and much needed. This has prepared the operation for new investment and I'm really excited to see new kit.
We're currently evaluating a new printer Rotary Die Cutter and our aim is to set new standards. My background is die cutting and print, having worked at Rotherham for twenty years. Although I'm now at Rawcliffe we have the same opportunity.
So, I'll take you back to 2002 when I went to the Middle East to look at the Gopfert Evolution [a die cutter] and we had that installed, which I personally believe is the best performing machine that we've ever had at Rotherham. I had infrared driers fitted to the Gopfert Evolution which I believe was the first in the country. To the point where JB Machinery did, similar to this [interview], they had a conversation with me asking what I thought and that was published in a paper magazine in America.
The Gopfert Evolution I mentioned earlier, I picked that on a trip to Jeddah and it was a fantastic investment. Getting a new machine on site and seeing the increased capabilities it will bring. I get a buzz out of that.
Can you describe the company culture?
At Cepac as a group? I think it's changed quite dramatically over the years, particularly as we're grown with the acquisition of three more businesses a few years back.
Since I joined Rawcliffe in January we have covered a lot of ground very quickly as we are laying for foundations for investment and growth. We are strengthening our management team with the addition of industry leading Quality, Commercial and Supply Chain expertise.
Going back twenty years to now it's night and day. Back then I think there was a tendency to work on your own thing and the sharing of ideas and responsibility wasn't as common as it is today. Operating four sites means communicating, particularly at management level which is even more important. And senior management have noticed that and are forever working on instigating improvements. A few years ago, we changed our strapline to 'Together we achieve more' and since then we have been moving in that direction. There is always room for improvement, which goes back to what I was saying about managing people. But I think we are improving every day.
Hear more from our people, check out our staff focus roundup here.