At Cepac we're incredibly proud of our people. This is one in a series of staff focus articles where we shine a light on the many faces who make up our team.
We talk to Brian, Technical Manager at our Rotherham site, about performance packaging and changes in the industry over the last twenty years.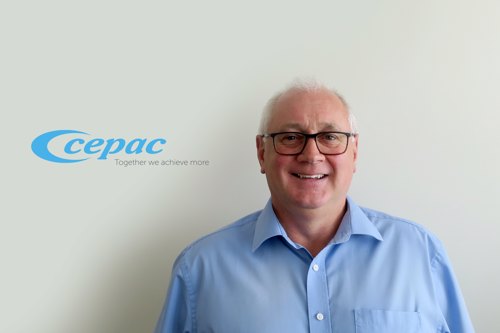 Could you describe your job role?
I'm the Technical Manager. My job is to lead and coordinate activities of the technical team at Cepac Rotherham. We ensure that products are manufactured to comply with company standards, and that not only includes our own quality management systems and product safety benchmarks, but how we can develop an in-depth understanding of our customer requirements. Every customer has their own set of quite complex rules, regulations and requirements. These can differ significantly between one customer and another.
Some clients have their own packaging development teams who want to get involved and onboard with the process. Some might not have a packaging professional on their payroll so we step in when that's the case. My role is not only company and customer technical support but also encompasses development. I might look at value engineering, technical support, backup assistance all sorts. Value engineering is particularly interesting and effective. More and more clients want to take cost out of corrugated packaging and streamline the system. I can find myself on packing lines assessing performance and value opportunities. It may not be as simple as taking cost out of a case but you might be able to streamline a process (like a packing line) and make a big difference operationally.
I keep up to date with packaging regulations and relevant legislation as well as keeping us on board with the sustainability aspects. A good example would be FSC (Forrest Stewardship Council) ensuring that as a group we are certified to that standard. More and more customers want to know where our raw materials are coming from and we want to demonstrate that. We were the first UK packaging plant to be certified to FSC. That took a little while, because it wasn't just a case of ensuring that we were certified, we have to ensure that our suppliers are too, being accountable for the chain of custody.
You've been at Cepac from the very start. Could you tell us about some of the changes in the business over the last twenty years?
When we first started here, and when I started, there was no factory. They were literally putting the girders in to the ground, getting the roof on and very quickly after getting the machines in. We had to hit the ground running and when we started the corrugator up it was on actual orders for customers. We commissioned the corrugated on actual orders. Once we'd manufactured the board it went straight on the conversion machine and out to customers. There was no messing about.
There have been some significant changes over the years as we were the pioneers in Performance Packaging. And Performance Packaging was our passport into some significant advancements in packaging development. We didn't want to come along and be just another corrugated supplier. Our owners set out to do something radically different and that radical differentiator included Performance Packaging and pressure sensor technology. You can't have one without the other, they work pretty much hand in glove. We embarked upon this route and we worked with machinery suppliers who were also looking to develop machinery and technology to move everything forward. The corrugated industry had stagnated for years and years and was overdue for change so it was a good time for us, moving at a pace with some of the packaging equipment suppliers.
We've gone from developing Performance Packaging to seeing our processes become something of a standard in the industry. Other producers have begun to imitate what we do which is reassuring that we've taken things forward in the right direction.
Historically we've always worked with the food industry. There is always going to be a need for corrugated packaging of food products and we're ideally suited to serve that. Of course we serve other categories too but in food there has probably been the most change. There have been fundamental changes in terms of the credentials required to work with that sector. We've seen developments within our customer base, there have been massive developments in terms of accreditations. And some of these have been ground breaking and absolutely essential. Years ago you had to have ISO 9001 or you weren't even looked at as a supplier. Now it's 9001 quality management system, 14001 which is environmental management systems and then the biggest change over the last few years has been with BRC (British Retail Consortium) which has seen some massive changes in that area. We've gone from purely looking at a hygiene standard to a full view at product safety standards. We take our food safety accreditations and practices very seriously, ultimately when you're working with food you're responsible for other peoples lives, not just their livelihoods.
One notable shift is shelf ready packaging. Some years ago the supermarkets began wanting to take a box, have it packaged with product and with the removal of a couple of components have the box ready to display on shelf. That's been quite significant over the years and what we've had to do is manufacture boxes which are strong enough to make it through the supply chain but weak enough so that it has an easy opening. Shelf ready Packaging has been around for a number of years now but is getting smarter and better all of the time.
Do you have a standout achievement or event at Cepac?
There are quite a few landmarks.
Being number one for Performance Packaging and watching your competitors try and emulate that is very good. They still don't do everything that we do, you can't pick and choose with it, Performance Packaging is everything or nothing. Starting with selecting and testing the right raw materials makes a consistently good board, which makes a demonstrably good box.
The other one would be FSC. Being the first company to navigate what was seen at the time (2009) as a bit of a minefield. More evidence of Cepac being bold, which is exciting.
Then there are our accreditations which I've touched on. But in particular BRC Global Standard which is becoming the absolute top standard and very quickly will become absolutely essential. There's a whole management system in itself embedded in that system and it touches on our work across everything we do, not just food.
What excites you about Cepac?
My own personal opinion, having been here since day one, is that it's great to be involved with everything. And I've been lucky to have been able to do that at Cepac. I was involved with Cepac right from the off, so to have that input as to how the factory was, that was fantastic for me. So to see the business develop and grow very quickly was great. We had a streamline in the early days which was, 'failure is not an option' because at the beginning there were hardened professionals who had come from across the corrugated industry and they came with this absolute faith that this was going to be a world class company and they wanted to be a part of it. That's why they jumped on board very early, just like myself, and to see it develop and grow to a point which is still exciting.
The other thing is that at the beginning you didn't have one role, you had multiple roles. One of mine was to recruit people and we developed a lot of people. Only the strong made it and I remember interviewing, twenty years ago, teenagers who are still here to this day. And to this day what really makes it for me is seeing some of those people's family joining the company today. That really is the cherry on top of the cake for me.
Something I'm proud about is how many giant companies use us as their sole supplier. They rely on us every day to ensure that their boxes get to site on spec. Those customers put all of their faith in Cepac and we've delivered on that for years. We must be doing something right!
You don't get there without providing a quality box, which is consistently good and works for them. These boxes often end up on auto packing systems so they've got to work. We back that up with commercial support, technical support, quality support and design support. We've still got customers coming back to us from right at the start and that's why.
How is the company culture?
Working at Cepac is good as we don't have massive lines of communication to go through if we need to do anything or get involved in things. Decision making is rapid and people from all levels are quick to get involved in things. The Rotherham site is an open plan office so everyone works together and the canteen is one big canteen so everyone eats together. Whilst you're on site we're all sharing that togetherness. Again, it's all about working together and supporting each other.
Any advice for working in the corrugated industry?
The industry has come on leaps and bounds over the last few years. Twenty years ago I might have said you don't want to get involved with it but now it's precise and technical—vastly improved. What you can do with boxes is far more exciting and the level of finish is incredible. And what we've started to see with digital printing, well, watch this space.
Hear more from our people, check out our staff focus roundup here.