Winner in the spotlight!

As the dust settles on the 2023 UK Packaging Awards, we wanted to showcase our two award winning projects. The first is for the category 'Corrugated: Retail Ready and Point of Sale'.
This award winner is a display - a fully assembled Tiki Bar, inclusive of bar unit and back board with 3D elements, sand skirts, four shoppable stackable units and one stand alone unit.
Working closely to the brief from Pernod Ricard, we used our creative expertise and flair to produce a fully immersive unit which displayed Malibu and RTD cans. The Tiki bar offered a fun summer theme bringing to life the brand, with colourful, impactful graphics.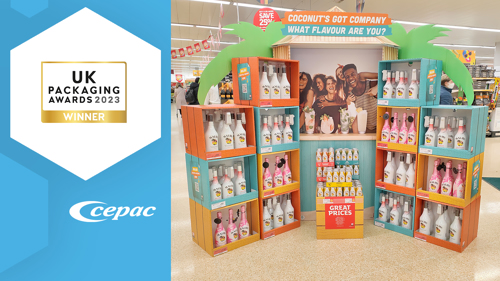 The whole display is made from 70% recycled cardboard, with recyclable Polypropylene SEL strips and rivets to secure some of the components together.
Our target was to manufacture the display from all sustainable materials, whilst ensuring the structure was as safe as possible in store.
The judges at the UK Packaging Awards obviously loved it as much as we do!